This is an automatic label counter rewinder, it has a built-in counting sensor, when the number of labels reaches the set value, the machine automatically stops. It is driven by stepper motor and controlled by PLC and color touch screen.
The machine adopts vertical design, which is convenient to install various optional functions, such as thermal transfer printer, inkjet printer, barcode visual inspection system, air expansion shaft, tension control system, meter counting function, etc.
| | | |
| --- | --- | --- |
| | | |
| Inkjet Printer | Thermal Transfer Printer | Barcode Inspection System |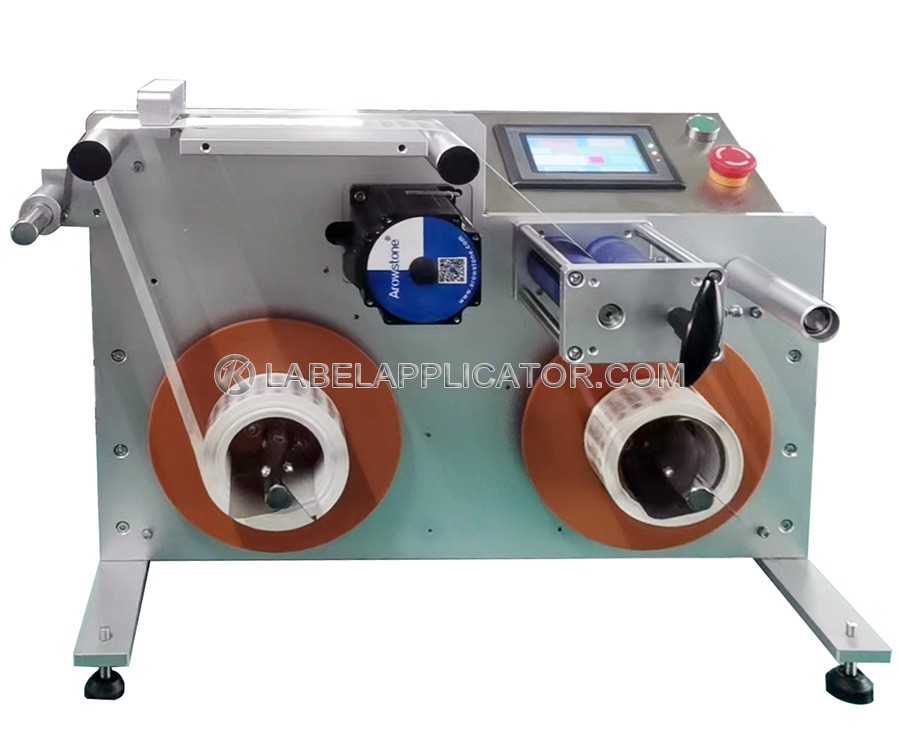 Control System: color touch screen, PLC control
Motor Type: stepper motor
Counting Function: count quantity (meter counting is for option)
Label Width Range: 10~130mm
Max. Label Roll Weight: 20kg
Counting Speed: 100pcs/min

Power Rating: 500W
Power Supply: 220V 50/60Hz
Net. Weight: 35kg
Dimension: 650×450×450mm
Optional Function List:
Meter Counting: Selecting this function can realize automatic meter counting. When the rewinding length of the label reaches the set value, the machine will automatically alarm and stop.

Remark: Although the tandard machine comes with automatic number counting function, sometimes the number cannot be counted for some materials, the meter counting function can be selected at this time.

Tension control system: With the change of the outer label roll diameter, the tension of the label will also change, selecting this function can be used to control the tension of the label to be constant.

Inflatable shaft: The discharge shaft and the take-up shaft adopt the inflatable expansion design, which supports one-key inflation and deflation, it is convenient for fast loading and unloading.

Thermal Transfer Coding Device: Select this function to print the production date, product batch number and other information on the label, the printing method is ribbon thermal transfer.

Inkjet Printer: Selecting this function can realize automatic printing on labels. In addition to common characters, it also supports printing various barcodes and QR codes. Ink cartridges are available in a variety of colors.

Barcode Detection System: This function is mainly designed for barcode labels, which can automatically read the barcode content and compare it with the database to prevent wrong codes, missing codes, duplicate codes, etc.

Deviation correction system: This function includes an independent sensor and motor to automatically correct deviation, which can ensure that the label is rewound neatly, it can automatically correct the deviation during the rewinding process.